These tools and animations have been designed to ensure brand consistency across videos at UMBC. Please follow the directions, and utilize the files provided below. If you have any further questions regarding these directions or files, please reach out to University Communications and Marketing's video producer by emailing videoproduction@umbc.edu.
Open and Close of UMBC Videos
The horizontal UMBC shield logo should be used at 50% size over a piece of footage. The background footage should be blurred and set to approximated 60% opacity or should be dark enough so that the logo is clearly visible.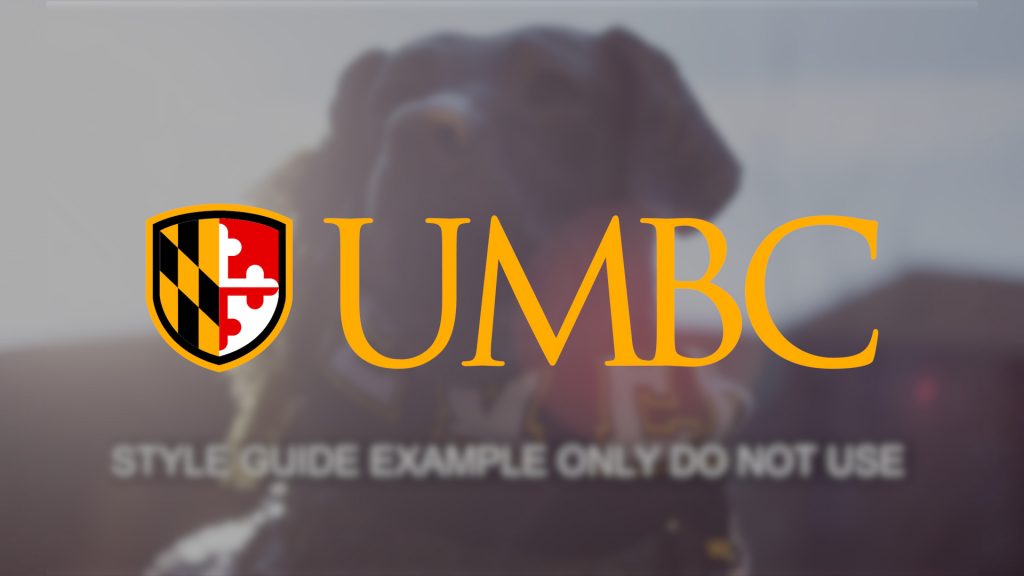 While we recognize that there are many different usages of video within the UMBC community, attached on this link there is a starter Adobe Premier Pro project with the above outlined adjustment layers already created for your usage, and the proper lower thirds already in the project. Premier Pro has been used to create this project as it is publicly available for all staff and faculty by DoIT on the software downloads page.
Titles for UMBC community members
A standard Motion Graphics Template for use in Adobe Premier Pro is included in the below link, as well as the Default UMBC Project folder above. All names and descriptors should follow the
 UMBC Text Styles
 and the 
UMBC Alumni Styles
webpage guidelines. These templates require the use of the UMBC primary font Avenir Next, please refer to the
 Typography Page 
on the Styleguide for directions to purchase fonts you do not have access to currently.
Video Animation download (With Alpha)
https://umbc.box.com/s/53xwmyhl7cxgkiifsjiz8sqr1gbr37hn
Community-Produced Videos
As UMBC faculty, staff, and students create videos to inform and inspire our community, we want to help keep that work on brand. To assist with this, we have produced two sizes of special end cards (below) for general use.
In addition, we invite you to read our guide for producing high-quality video on your phone.
For questions about community-produced videos, please contact University Communications and Marketing's video producer by emailing 
videoproduction@umbc.edu
.
UMBC Land Acknowledgement Statement Animation
UMBC acknowledges the land of Indigenous peoples on which UMBC is located and encourages all in our community to share the following video statement during meetings or as part of other projects. For more information about the statement, visit the
Office of Equity and Inclusion.