As campus messaging grows to include video produced by multiple departments, this section is meant to give guiding principles for tone, visuals, and representation of our campus community.
In our imagery, we should strive to show an authentic UMBC experience that gives our audience a true sense of place. All video and animation should be developed considering our inclusive culture, innovative teaching and learning, research across disciplines, and civic engagement. We should avoid video of lone subjects, but instead show people working together, and whenever possible, diverse groups should be captured. Best practices for lower thirds, opening titles, and end cards are outlined below.
Any questions regarding video creation should be directed to Corey Jennings '10, Video Producer with the Office of Institutional Advancement (OIA), at videoproduction@umbc.edu.
Existing Video Assets
Videos produced by UMBC are made available, when deemed necessary, on the UMBCTube YouTube page. This page is managed both by OIA and the New Media Studio as the primary video platform for UMBC.  Through that page, you may embed videos on websites, show to our community at large or embed in Google Sheets presentations. If you need to download these files for a specific presentation, digital signage, or other usage, please email videoproduction@umbc.edu. Please DO NOT download videos directly from YouTube via a third party website or page. These files will not be of high quality, and may contain errors. These video files are considered final, and no editing should be made to them for outside usage. Questions regarding changes and/or additions to this page may be made at videoproduction@umbc.edu.
New Video Assets
If you or your department would like assistance with a new video, please contact Corey Jennings at videoproduction@umbc.edu, or New Media Studio at newmediastudio@umbc.edu, to determine the course that makes most sense for your project.
Use of Logo in Video
All uses of the logo in video should be in accordance with the UMBC Branding & Style Guide at styleguide.umbc.edu/umbc-logos/. 
Technical Details for Video Creation
These details have been designed to ensure brand consistency across videos at UMBC. Please follow the directions, and utilize the files provided below. If you have any further questions regarding these directions or files, please contact Corey Jennings, Video Producer with OIA, at videoproduction@umbc.edu.
Open and Close of UMBC Videos
The horizontal UMBC shield logo should be used at 50% size over a piece of footage. The background footage should be blurred and set to approximated 60% opacity or should be dark enough so that the logo is clearly visible.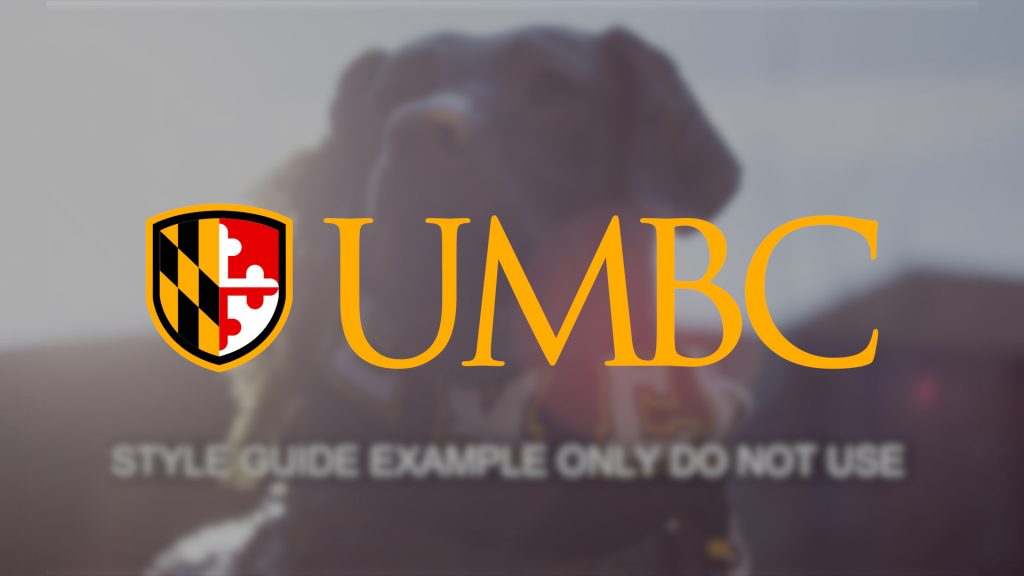 While we recognize that there are many different usages of video within the UMBC community, attached on this link there is a starter Adobe Premier Pro project with the above outlined adjustment layers already created for your usage, and the proper lower thirds already in the project. Premier Pro has been used to create this project as it is publicly available for all staff and faculty by DoIT on the software downloads page.
Titles for UMBC community members
A Motion Graphics Template is included in the below link, as well as the Default UMBC Project folder above. All names, and descriptors should follow the UMBC Text Styles, and the UMBC Alumni Styles webpage guidelines.
Video Animation download (With Alpha)