Overview and Goals
Themes | Download Graphic Elements | Using This Identity Within the UMBC Brand | Hashtags | Planning and Supply Chain Issues
In the coming months, we will have opportunities to write messages and tell stories about community and impact that will be used in communications related to events, solicitations, and documentation of Dr. Hrabowski's final year at UMBC. Because we will need language and visuals that will be helpful both for institutional messaging as well as community-driven events and solicitations and because we aim to create a consistent experience for all of our audiences, we have created a selection of themes and design options for use in the predicted range of communications.
Through these elements, we hope to strengthen the ideas that:
Our community is prepared for this transition, and always has been. Dr. Hrabowski has empowered us all to co-create UMBC from the beginning of his tenure.
Our community is filled with gratitude for Dr. Hrabowski's leadership and the impact he's had on UMBC. Our community is very much built around that gratitude.
UMBC is a vibrant community of caring, empowered people who are dedicated to an important mission. UMBC is a great place for our next president to make a difference.
The language and graphic elements below will allow for flexibility across uses, letting us focus on what matters most – telling the story of Dr. Hrabowski's impact, and how we, as a community, are ready to carry on UMBC's mission for years to come.
Creative Elements
As with the main UMBC brand, we want campus communicators to feel like they have a creative framework that allows them to make their communications successful while keeping them all within a family. The themes and graphic elements that follow should be considered tools for this work; we will continue to add elements as needed.
We will also encourage weaving in some of Dr. Hrabowski's well-loved phrases into our work, so we can be reminded of his impact, while also fortifying the idea that UMBC's biggest strength is a community empowered to carry on the UMBC mission.

Themes
The elements of this creative toolkit will center on two main narrative themes. We expect that certain uses will gravitate to one or the other, and that is fine. Use the themes and suggested storytelling notes below as they feel appropriate for your work:
RetriEVER Empowered
As Dr. Hrabowski says, "It's not about me. It's about US." Dr. Hrabowski's biggest legacy is our empowered university community. Together, we have built UMBC, and together we are more than prepared for this moment and what lies ahead.
Our UMBC community is as strong as ever. Our community has made UMBC what it is together, and we are empowered not only to keep things going, but continue to build in exciting ways with our next president.
As we think about Dr. Hrabowski's legacy, we should follow his lead and frame his impact among the moments of joy that bring meaning to our lives and work as Retrievers.
RetriEVER Grateful
Now is the time to celebrate the people of UMBC, the impact we've made together, and the spirit of inclusive excellence that will drive our work for years to come. We all play an important role and we should feel proud to share our moments of gratitude.
With the coming conclusion of our Grit & Greatness campaign, we feel deeply thankful for those who have supported the mission of a place we all believe in so deeply. Through it, we will continue to make big breakthroughs, forge true partnerships, and transform lives.
As Dr. Hrabowski says, Success is Never Final, and that's true not only of the campaign but UMBC as a whole. Together, we will continue to build upon the strong foundation we know to be UMBC.
Graphic Elements
Our Presidential Transition Toolkit includes elements for use in print, email, web, and other communications pieces:
RetriEVER Empowered and RetriEVER Grateful wordmarks. Please note: these versions are most suitable on white backgrounds.

Download an EPS  Download a PNG

Download an EPS  Download a PNG
RetriEVER Empowered and RetriEVER Grateful wordmarks for use on backgrounds. Please note: these versions come with a white background and should be used on the upper-right edge of an image, a field of color, or background pattern.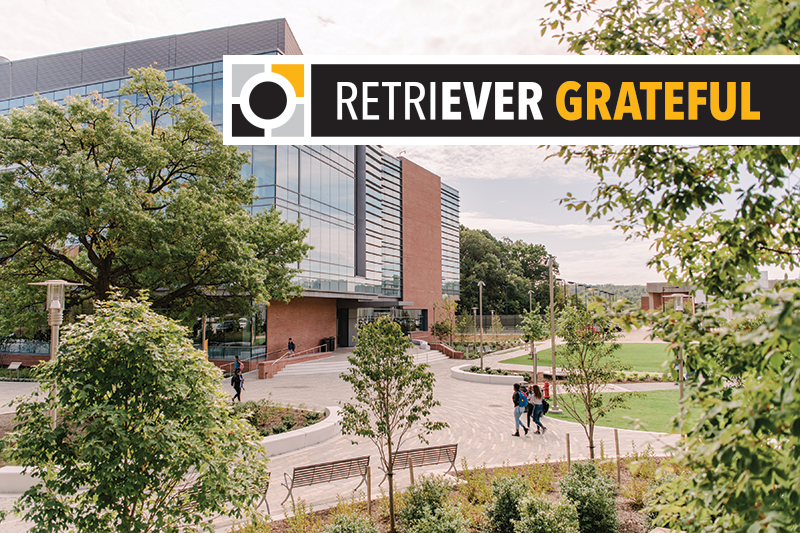 RetriEVER Grateful (over-image graphic)
Download an EPS  Download a PNG
RetriEVER Empowered (over-image graphic)
Download an EPS  Download a PNG
---
Presidential transition email header
For use on institutional emails related to the search process. Sized to 600×200 pixels.

---
RetriEVER Grateful email header
For use on emails related to RetriEVER Grateful. Sized to 600×200 pixels.

---
Callout Graphic
For use above a block of callout text and should be used on white backgrounds.

Download an EPS  Download a PNG
---
Decorative bar
For use as a separator between blocks of content and should be used on white backgrounds.

Download an EPS  Download a PNG
---
Square RETRIEVER GRATEFUL Graphic
For use on signage. Needs a white frame (border) if used on another color (besides white).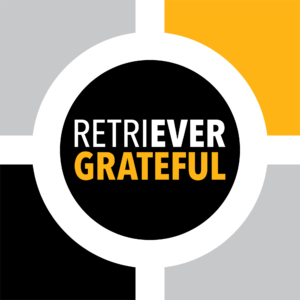 Download an EPS  Download a PNG
---
Additional elements in development:
Impact infographics to tell the story of UMBC's growth under Dr. Hrabowski's leadership
Standardized lower thirds, title cards, etc., for video
Lumen5 Template
If you have need of a particular tool not found here, please contact Jim Lord '99 at jlord1@umbc.edu.

Using This Identity Within the UMBC Brand
When creating transition-related pieces, keep in mind that all messaging and visuals should still ultimately fit within UMBC styles. For instance, as we note in the UMBC Brand & Style Guide, the use of "We" and "Our" in our communications helps to convey that UMBC is a community made of caring people. Similarly, when selecting photography to highlight your work, try to choose pieces that highlight our inclusive community. Remember Dr. Hrabowski's quote, "It's not about me – it's about us!" For information on making your piece fit in with the tone of the UMBC brand, visit this section of the UMBC Brand and Style Guide.

Hashtags
Because we already have strong hashtags in use, we should choose combinations of appropriate hashtags for specific uses. For example, Giving Day communications would use their traditional #blackandgoldrush tag, but could also incorporate #SuccessIsNeverFinal. A community-focused communication might use #UMBCtogether, #UMBCproud, or #RetrieverNation – or a combination.

Planning and Supply Chain Issues
Under normal circumstances, it is important to plan well ahead for the conception, writing, design, production, and distribution of any communications piece. Today, as many industries are dealing with supply chain issues – including printers – and postal delays, it is even more important to plan ahead and be flexible as you go. For more information, please contact Emily Macenko at emily5@umbc.edu.