UMBC turns 50 on September 19, 2016. It's a once-in-a-generation opportunity to show the impact of our exceptional community. As we prepare for the big day, and the year of activity leading up to it, we invite all of our alumni, students, faculty, staff, and partners to stand up proudly and be recognized as pioneers in building a public university that is nationally known for excellence. With help from you and other members of our community, UMBC will set a strong foundation for the next 50 years.
As we communicate within the UMBC community and beyond about the 50th Anniversary, please use the following information to guide you in adding the 50th branding to your websites, posters, social media, and elsewhere. For questions, please feel free to contact Jenny O'Grady, director of marketing, at jogrady@umbc.edu, or Jim Lord, design director, at jlord1@umbc.edu.
The Grit & Greatness Brand
The wordmarks you see below will be used as noted for internal and external communications related to UMBC's 50th anniversary. The brand statement is as follows:
A great university is forged with grit and a shared vision of excellence. Together, our faculty, staff, students, and alumni have made UMBC a national leader in diversity, excellence, and innovation—in only 50 years. We take special pride in our graduates, whose vital contributions to society and the economy extend UMBC's impact throughout Maryland and beyond.
As we talk about "grit & greatness" in our messaging, where possible we should make special note of the fact that UMBC's success is built upon collective "moments of greatness" as well as individual successes.
UMBC50 logo variations
Download all logo variations here.
Primary Logo

This variation is the preferred option for all 50th communications, apparel, promo items, and stationery (letterhead, business cards, envelopes, etc.).
Anniversary Logo

In some cases, members of the campus community may prefer to highlight the anniversary years. When that occurs, this variation should be used.
Logo Without Tagline

Sometimes the art area will be too small to render the primary logo. In those cases, this variation of the logo should be used.
Social Media Logo

Sizing the logo
Primary Logo

Anniversary Logo

Logo without Tagline

Social Media Logo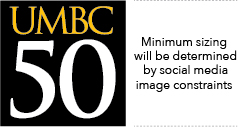 Examples of incorrect uses of the UMBC50 logo include:
Rendering the wordmark using variant typefaces

Repositioning elements of the wordmark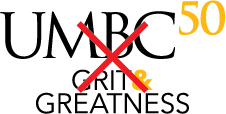 Adding graphics to the logo

Electronically condensing or stretching the wordmark