Video Branding Assets
Download this zip archive to get all branding assets listed below:
UMBC Presents logo [.png]
UMBC logo [.png]
UMBC footer ribbon [.png]
UMBC Presents fade with sound [.mov]
UMBC fade with sound [.mov]
All UMBC videos should open with either the "UMBC Presents logo" or "UMBC Presents fade with sound."
The logos with the .png extension are semi-transparent and can be used over existing video. They should be centered in the middle of the screen, as shown below: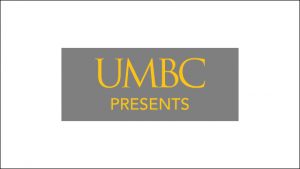 The UMBC footer ribbon should be used periodically throughout the video, to show the UMBC logo. It is placed at the bottom of the screen behind any caption, subject names and titles. See below: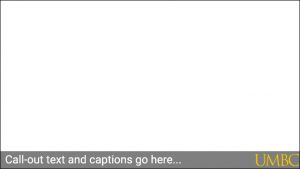 Any text used over the UMBC footer ribbon should adhere to the typography guidelines. Note: If the video author's computer does not have Avenir installed, Roboto may be used as a substitution [download here].
Using Video Branding Assets
The following instructions are for use with Adobe Premiere.
1) Start a new project. The settings below are for a Panasonic AVCCAM camera, and can be adjusted for any kind of camera.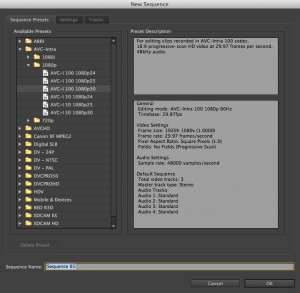 2) Import the desired UMBC branding assets into Adobe Premiere.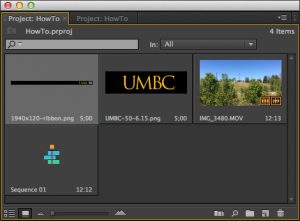 3) Add the asset to the video timeline. In Adobe Premiere, assets placed on the timeline will be centered in the middle of the scene. This works for the standard "UMBC" logos and the .mov files, but the footer ribbon will need to be adjusted, as shown in the following steps.
Select the ribbon graphic and drag to insert on the Adobe Premiere timeline: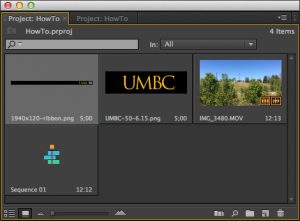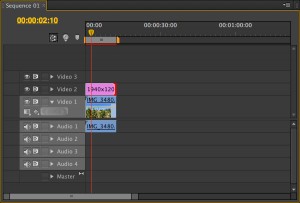 As stated, the ribbon will be centered in the scene: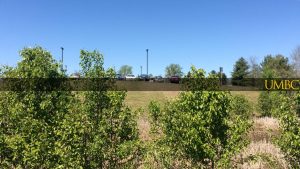 Open the effects controls panel. The position of an asset can be modified under "motion." With the ribbon asset selected on the timeline, click and drag on the value to change the position on the Y-axis: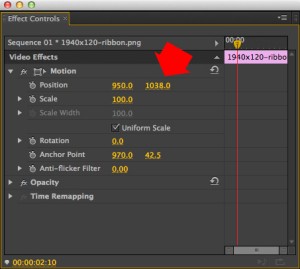 This will push the ribbon to the bottom of the screen.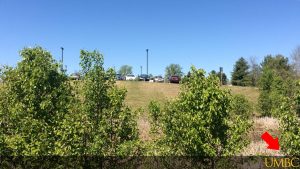 Add subtitles & closed captions
It's important to produce videos that are accessible to everyone. Subtitles and closed captions make video content accessible to a larger audience, including deaf or hard of hearing viewers, and can also help ensure videos are understandable to hearing audiences when they autoplay without sound on platforms like Facebook and Instagram.
YouTube offers several approaches to adding subtitles & closed captions.
Go to your Video Manager by clicking your account in the top right > Creator Studio > Video Manager > Videos.
Next to the video you want to add captions or subtitles to, click the drop-down menu next to the Edit button.
Select Subtitles and CC.
Click the Add new subtitles or CC button.
Choose how you want to add or edit subtitles or closed captions to your video.
Create subtitles or closed captions
Upload a file
Transcribe and set timings (original video language only)
Automatic captioning and captioning services.
YouTube can use speech recognition technology to automatically create captions for your videos. If automatic captions are available, they'll automatically be published on the video. Learn how to review, edit, or unpublish automatic captions.
Video Hosting
UMBC uses the official UMBC Life YouTube account to host videos. See the social media guidelines for more information about this channel and other outlets.
Here are recommended upload encoding settings for YouTube: bitrates, codecs, and resolutions.